СКАЧАТЬ ЭТО ВИДЕО ►
Foo Fighters Under Pressure Queen cover Dave Grohl on drums live 2018







https://youtu.be/DjveILk31dA
ПОХОЖИЕ ВИДЕОРОЛИКИ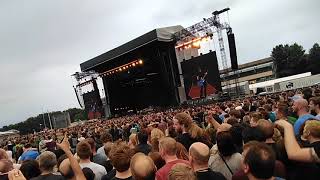 2 мес. назад
Foo Fighters my Hero live Hamburg Trabrennbahn Cut https://youtu.be/xZo91JDmQpA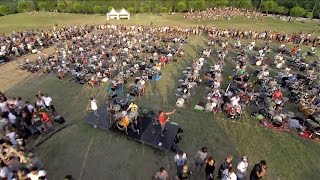 3 г. назад
1000 musicians play Learn to Fly by Foo Fighters to ask Dave Grohl to come and play in Cesena, Italy. This is Rockin'1000 - Cesena 26.7.2015 1000 musicisti suonano Learn to Fly dei Foo Fighters per chiedere a Dave Grohl di venire a suonare a Cesena. Tutto questo è Rockin'1000 - Romagna calling the Foo Fighters - e si è tenuto il 26 luglio 2015 proprio a Cesena. Directed by Anita Rivaroli and Alberto Viavattene DREAMER Fabio Zaffagnini ANGELS Claudia Spadoni - Production Manager Anita Rivaroli – Video Production Martina Pieri - Communication Manager Marta Guidarelli - Fund Raising & Human Resources Debora Castellucci - Commercial Manager Mariagrazia Canu - Press Office Valentina Balzani - Fund Raising ORCHESTRA LEADER Marco Sabiu MUSIC GURUS Alberto Paderni - Drums Guru Augusta Trebeschi - Voice Guru Biagio Esposito - Bass Guru Claudio Cavallaro - Guitar Guru Lele Borghi - Drums Guru Stefano Re - Guitar Guru SOUND DIVISION Francesco Penolazzi - Sound & System Designer Francesco Ridolfi - Sound Supervisor Marco Benini - Head of services and coordination Amek&Vanis – Live Recording Alberto Paderni e Lucio Boiardi Serri presso BlueBeet Studio - Mix e Mastering Francesco Filomena - Protocol Engineer & Midi Specialist Paride Pironi - Technical Support Andrea Brighi - Light Operator Claudio "Rosso" Tappi - Technical Support Stefano Martini - Technician Marco Volpe - Technician VIDEO DIVISION Anita Rivaroli, Alberto Viavattene - Directors Pasquale Remia – Cinematography and Camera Operator Sara Suzzi – Executive Producer Davide Adamo – Camera Operator Luca Gennari – Camera Operator Kamel Kuri – Crane Grip Luca Nonni – Crane Operator Stefano Mancini – Camera Operator Marcello Marano - Camera Operator Simone Pagliarani – Camera Operator Flavio Perazzini - Camera Operator Matteo Santi – Camera Operator Francesco Squillace – Camera Operator Andrea Maffucci – Ronin camera Operator Jangle77 - Drone Operator Matteo Stefani - Editor Paolo Formisano – Editor assistant Antonio Bacchini – Runner Elisa Rossi – Runner Francesco Tamburini – Runner Martina Ventrucci - Runner EVENT PRODUCTION Andrea Pontiroli - Project Advisor Marco Spadoni – Set developer Clara de Paul – Artistic Producer Elena Terrini - Artistic Producer Silvia Moia - Artistic Producer Giovanni Nicotina - Logistics Team MAIN TEAM Eleonora Giunchi - Social Media Francesca Suprani - Webmaster PROJECT PLANNING Studio Iaria - Forlì SPECIAL THANKS Alessandro Iaria Christian Castorri e Tommaso Dionigi Gianni Comandini e Andrea Rossi Alessandra Sorgato e Luca Fantacone (Sony Music Italia) Luca Ceroni Valentina Montesi (Filter Coffee) Maurizio Rivaroli Giulia Bassani Alessandro Giordani Francesco Rivieccio Michele Sgolaccia CesenaLab AMBASSADORS (VOLUNTEERS) Alan Basini Andrea Ghignone Andrea Bilotto Anita Amadei Anna Montorsi Antonio Bacchini Barbara Casadei Bianca Boni Cesare Bernardini Chiara Pepe Chiara Valentini Claudia Cesaroni Deborah Detti Elisa Bertolucci Elisa Rossi Elisabetta Socci Federica Brunori Federica Folesani Federico Marchetti Francesca Baldazzi Francesca Frini Francesca Iaci Francesco Tamburini Gabriele Torricella Gioele Fiorini Giovanni Guanti Giovanni Treglia Giulia Lucchesi Ilaria Paladino Jenny Giulianini Josie Cipolletta Katia Tumidei Laura Togni Luca Delvecchio Marco Manucci Martina Ventrucci Matteo Fabbri Matteo Pellegrino Mattia Zanetti Mosè Mondini Paolo Corazzini Raffaele Esposito Rocco Vece Sara Pautasso Silvia Groppi Susy Cantoni Tommaso Marchiani Valentina Bigiarini Valentina Dall'Ara Vincenzo Mauriello PARTNERS Istituto Eccelsa Acqua Ferrarelle Algida Gruppo Hera Golia Heineken Romagna Iniziative Teatro Verdi Proofy Filter Coffee INSTITUTIONAL PARTNERS Comune di Cesena Confcommercio Cesena Confartigianato Cesena MEDIA PARTNERS Rolling Stone Italia Radio Studio Delta Rockit.it TECHNICAL PARTNERS Idea Ginger Cubevent Musicraft 3 Civette Eventeria TD rent DTS Lighting DONORS (Magnificent & Saints) Alessandro Dreosso Annamaria Leoni Mazzoni Antonella Poletti Daniele Gattuso Enrico Gnani Gabriele Garavini Gabriele Minardi Giacomo Tarroni Lidia Fabbri Lorenza Tigli Luca Cappelli Matteo Pirini Mattia Landi Nicole Triboli Paolo Biondi Maurizio Rivaroli Rosaria Vendittelli Silvia Ivaldi Simone Granata Sonia Zanfi THANKS Claudia Uttieri Arianna Rivaroli Tommaso Mondadori Giulia Bertozzi Ettore Nicoletti Luca Nervegna Giacomo Benini Andrea Farina Andrea Monti Mattia Lorenzetti Alexander Frank Nancy Ieracitano Sammy Paravan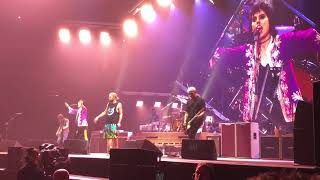 8 мес. назад
Taylor Hawkins & Luke Spiller (the Struts) on vocals, Dave Grohl on drums.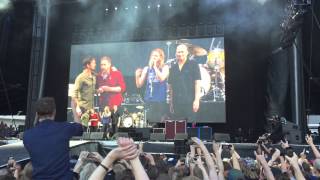 3 г. назад
Dave Grohl falls off stage and breaks his leg during the second song Monkey Wrench at the Foo Fighters concert in Gothenburg, Sweden. Within an hour, he's back on stage and he finish the show. Videos from the concert: Best of You - https://www.youtube.com/watch?v=XF00WYcpSm4 My Hero - https://www.youtube.com/watch?v=zwHInlMnijw Enough Space - https://www.youtube.com/watch?v=jPithzWVlCE Outside - https://www.youtube.com/watch?v=RO-IpTukof4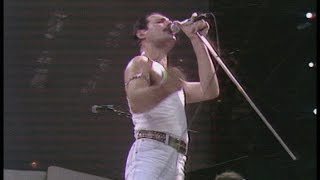 4 г. назад
This is the absolute ULTIMATE experience of Queen's set at LIVE AID, this is the best video mixed to the absolutely superior stereo radio broadcast. This vastly superior audio mix takes a huge dump on all of the official mixes. Best viewed in 1080p. ENJOY! ***MAKE SURE TO READ THE DESCRIPTION*** 00:36 - Bohemian Rhapsody 02:42 - Radio Ga Ga 06:53 - Ay Oh! 07:34 - Hammer To Fall 12:08 - Crazy Little Thing Called Love 16:03 - We Will Rock You 17:18 - We Are The Champions 21:12 - Is This The World We Created...? Short song analysis: - "Bohemian Rhapsody": Although it's a short medley version, it's one of the best performances of the ballad section, with Freddie nailing the Bb4s with the correct studio phrasing (for the first time ever!). - "Radio Ga Ga": Although it's missing one chorus, this is one of - if not the best - the best versions ever, Freddie nails all the Bb4s and sounds very clean! Spike Edney's Roland Jupiter 8 also really shines through on this mix, compared to the DVD releases! - "Audience Improv": A great improv, Freddie sounds strong and confident. You gotta love when he sustains that A4 for 4 seconds! - "Hammer To Fall": Despite missing a verse and a chorus, it's a strong version (possibly the best ever). Freddie sings the song amazingly, and even ad-libs a C#5 and a C5! Also notice how heavy Brian's guitar sounds compared to the thin DVD mixes - it roars! - "Crazy Little Thing Called Love": A great version, the crowd loves the song, the jam is great as well! Only downside to this is the slight feedback issues. - "We Will Rock You": Although cut down to the 1st verse and chorus, Freddie sounds strong. He nails the A4, and the solo from Dr. May is brilliant! - "We Are the Champions": Perhaps the high-light of the performance - Freddie is very daring on this version, he sustains the pre-chorus Bb4s, nails the 1st C5, belts great A4s, but most importantly: He nails the chorus Bb4s, in all 3 choruses! This is the only time he has ever done so! It has to be said though, the last one sounds a bit rough, but that's a side effect of belting high notes for the past 18 minutes, with nodules AND laryngitis! - "Is This The World We Created... ?": Freddie and Brian perform a beautiful version of this, and it is one of the best versions ever. It's both sad and hilarious that a couple of BBC engineers are talking over the song, one of them being completely oblivious of the fact that he is interrupting the performance, on live television... Which was being televised to almost 2 billion homes. All rights go to their respective owners! -----Copyright Disclaimer Under Section 107 of the Copyright Act 1976, allowance is made for fair use for purposes such as criticism, comment, news reporting, teaching, scholarship, and research. Fair use is a use permitted by copyright statute that might otherwise be infringing. Non-profit, educational or personal use tips the balance in favor of fair use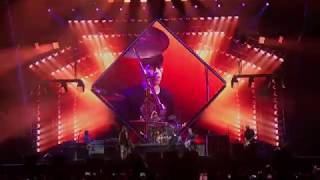 6 мес. назад
Foo Fighters - Under Pressure (Queen's Cover) Live at Allianz Parque São Paulo - 27 02 2018 Drums were performed by Lucas Benez, a boy on the crowd celebrating his 17th birthday who were holding a sign to play Under Pressure.. Actually Lucas is a guitar player and plays drums just like a hobby, but does that VERY WELL! Congrats Lucas, U R such a lucky bastard! =) Please SUBSCRIBE for more concerts and content.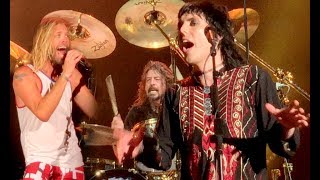 5 г. назад
More Queen on DVD: http://adf.ly/aGNvM "This remix is very close to the final album version. The bass lines seem to be a bit more prominent in the mix and the overall sound is a little less muddy. Freddie singing "that's okay!" has been removed right before Bowie sings, "it's the terror of knowing..." It is unknown who did this remix. It is rumored that this is actually an old mix from around the Hot Space time period". Info taken from www.QueenVault.com This video is a new mix between the Wembley version (12/7/86), the Freddie Mercury Tribute Concert version at the same stadium in 1992, and the now old video made by DoRo for Under Pressure (Rah Mix) in 1999. http://adf.ly/YhsMw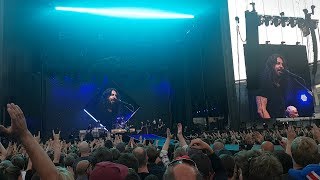 2 мес. назад
Dave on drums and Taylor on song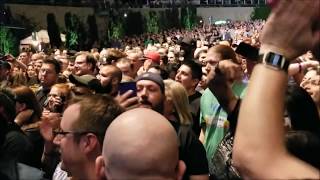 4 мес. назад
Dave Grohl pulls this fan next to us from the crowd (calls him Gene Simmons at first lol) to play on stage with the band during their show at the Austin360 Amphitheater in Texas and he rocks it!! Dave's reaction during the performance is priceless, especially afterwards lol. Live 2018
2 мес. назад
FOO FIGHTERS (Feat. Luke Spiller) Under Pressure (Queen & David Bowie cover) Download Festival Paris : Base Aérienne 217, Brétigny-sur-Orge, France le 17 juin 2018. Main Stage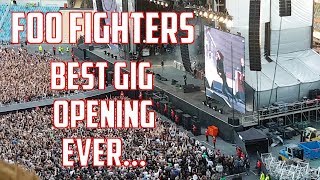 2 мес. назад
Foo Fighters live at Ullevi, Gothenburg, Sweden 5/6-18 - Best intro ever! So, just thought I'd share this - perhaps the funniest opening of a rock concert ever. If you don't get it, last time Foo Fighter played in Sweden, in this very arena, Dave Grohl fell off the stage and broke his leg... and came back to continue the show. So this opening is just epic, unique and well I guess it takes Foo Fighters to do something like this. I just hope youtube will keep the video up so it doesn't get deleted. Short review of the full show: The first openers was Frank Carter & the Rattlesnake - kick ass hard rock to metal and considering they opened the show they really got the audience going by a strong and solid performance and great audience contact. Second out was Goat, described as Swedens most secretive band. They perform in outfits and masks that makes them anonymous and their music is not mainstream - kinda progressive psychedelic world music. Personally I loved their performance but the audience didn't really turn on. And then Foo Fighters - a great rock and roll show full of humour, love and surprises. They really gave it all and I loved every minute of it... just a fantastic show by a really good band. Foo Fighters setlist: All my life Learn to fly The pretender The sky is a neighborhood Rope Sunday rain My hero These days Walk Another one bites the dust Imagine/Jump Blitzkrieg bop Under pressure Monkey wrench Wheels Breakout The line Dirty water Run Best of you Encores: Times like these Generator Everlong If you liked this video please do subscribe to Have Guitar to support me. Live concert videos is not what I usually publish here but... please do sub. Thanks goes out as always to all you who do subscribe! Why don't you Follow Have Guitar! on social media: Twitter: https://twitter.com/HaveGuitar1 Instagram: https://www.instagram.com/haveguitar/ Facebook: https://www.facebook.com/fretnothaveguitar/ Contact: admin *AT* haveguitar.com (turn that into a regular email adress ... did this to avoid spam!) Have Guitar! Website: http://haveguitar.com/wp/ And don't forget - Fret Nut... Have Guitar! Recorded with a Sony FDR-AX100 and edited in Magix Movie Studio Platinum 14.